Fall Protection Mississauga

Falls are the primary cause of death and severe injuries in Canada. Thereby, it becomes significant for you to acquire certain working at height skills from well-trained instructors before you get your hands-on forklift trucks. 
We have arranged a module that will cover the prevention of injuries and fatalities. We provide training using proper fall protection equipment and educate about its importance. We will highlight which fall protection technique to follow during such fall incidents. Both beginners and intermediates can avail of benefits from our training programs. Our course covers safe work practices for fall arrest training systems. Our course structure is blended for both individuals and groups, including both theoretical and practical components. Course duration varies from a few hours to a few days depending upon your learning abilities. You need to secure 75% to get certified in our training course. We will also assist you with recertification and other information. Call now to avail yourself of the best work safety programs offered by Forklift Training Mississauga.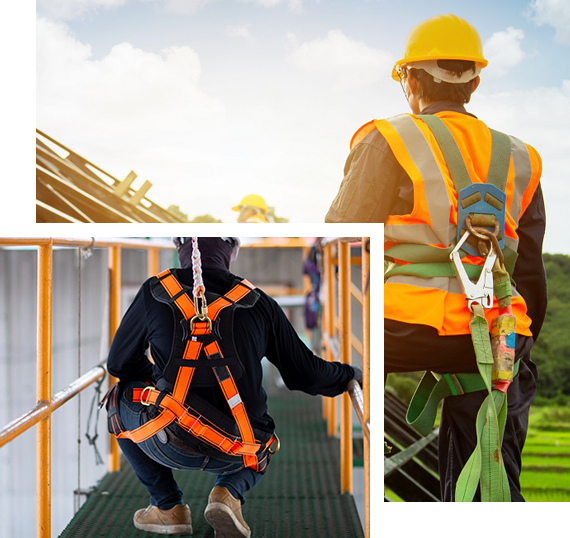 Fall Protection Training Course Outline:
Relevant legislation and guidelines

Identification of fall hazards

Fall Prevention Techniques

Equipment & Technique selection

Understanding anchorage points

Fall protection systems and components

Calculating fall clearances

Rescue plan importance

Body support equipment selection and application

Component inspection and maintenance

Fall Safety System & Planning

Fit Test

Rope Grab Installation

Tie-off Techniques

HLL/VLL/SRL

Practical Workshops
Looking for a specific forklift training?
Check out our available forklift training courses and call us if you need any assistance regarding these courses.
Forklift Operator Training Mississauga
Need a recognized and highly-accepted Forklift Operator Certificate Today? Sign up and get your Forklift Operator Certificate with our simple, quick, and efficient OSHA-compliant Forklift Operator Certification Training.
Call if you need any assistance regarding our forklift training programs and related services.